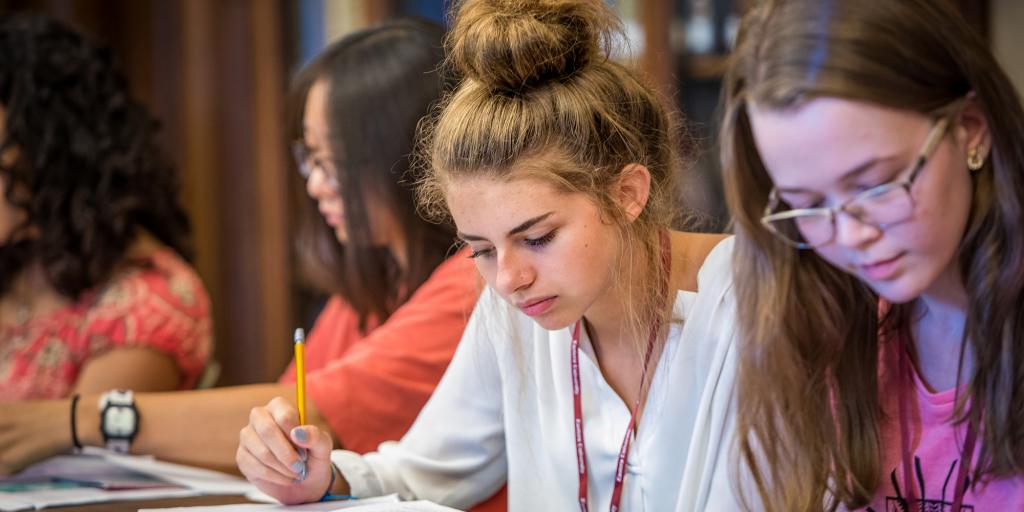 Announcement
Summer Scholars is looking forward to enrolling for Summer 2024. Enrollment will begin in January 2024.
The Summer Scholars Program is designed for intelligent, gifted young men and women who aim to become more than just successful employees, but fully alive human persons, as God intended. More specifically, this is an opportunity to sample a special kind of education—a kind that aspires not only to prepare its students for prosperous careers, but to investigate the meaning of a truly good life: a life of honest self-examination, delighting in what is True, Good, Beautiful, and Holy through formation into the image of Jesus Christ.
Program FAQs
What is the Summer Scholars Program?
A college-accredited, residential honors program for High School Students entering their junior or senior years
For eight or nine days students will live in residence on Eastern University's campus with a select group of peers, engaged in rigorous, college-level academics taught by Templeton's own doctorate-certified professors. Students will enjoy one-to-one writing tutorials, guest speakers, field trips to Philadelphia and the surrounding area, cultural events, and all this alongside a team of current Templeton students serving as their guides and mentors. Courses also include daily times of devotion and prayer, Sabbath rest, and visits to Eastern's world class planetarium and observatory. Students will be awarded up to 3 college credits upon completion of this program (transferable to other colleges and universities).
When does the Summer Scholars Program run?
Summer Scholars will run in Summer 2024. Enrollment begins in January 2024.
June 2024
Course I: American Revolutions
July 2024
Course II: Confronting Dragons
Where is the Summer Scholars Program held?
Eastern University (St. Davids Campus)
Why apply for the Summer Scholars Program?
Earn up to 3 college credits (transferable).
Enhance your academic resume.
Sharpen skills of thinking, analyzing, conversing, and writing with the Templeton Honors College's faculty.
Receive one-to-one college-level academic tutorials.
Take a cultural trip to Philadelphia and the surrounding area.
Experience college life while living in residential halls on Eastern University's main campus.
Make friendships to last a lifetime. You could even meet your future roommate!
What Courses are available?
American Revolutions
FACULTY:
Dr. Michael Lee: Summer Scholars Proctor, Grace F. Kea chair of History, Professor of American History
Dr. Brian Williams: Dean, Templeton Honors College, Professor of Ethics and Liberal Studies
Confronting Dragons: How Goodness Prevails in J.R.R. Tolkien's The Lord of the Rings
FACULTY:
Dr. Gary Jenkins: Summer Scholars Proctor, Adjunct Professor of History and Latin
Dr. Fred Putnam: Professor of Bible & Liberal Studies
"I think the Summer Scholars Program was when I really fell in love with the Templeton Honors College. The first summer I went, I was nervous; but it was wonderful. I made some wonderful friends, I talked about books that I absolutely love, and I got to have conversations with professors that challenged me. So I went back the next year, and I think that, by that point, it would have been hard to convince me to go to college anywhere else. Those opportunities allowed me to experience first-hand what going to Templeton would be like."