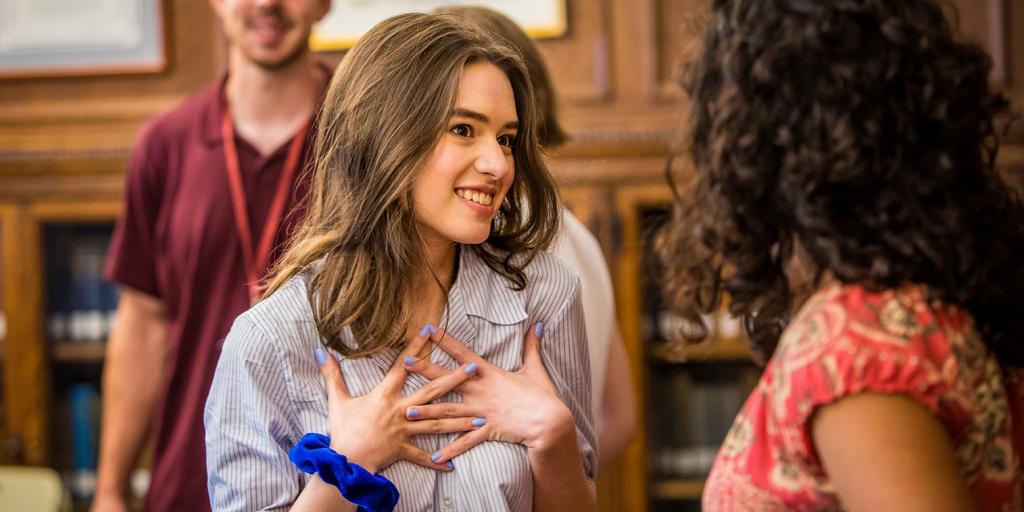 Here you can find just a small sampling of the wide variety of Eastern University's clubs and organizations of which Templeton students are members and leaders.
American Enterprise Institute Council
While not yet an official club, there is an on-campus group started by a Templeton student that is affiliated with the American Enterprise Institute and partners with existing organizations, sometimes on campus and sometimes off campus, to foster policy-oriented discussions. The mission of the council is to foster a "competition of ideas" on Eastern's campus and to organize thought- and conversation-provoking events. It also gives participating students the opportunity to attend various conferences and events with AEI.
The Anglican Fellowship offers an opportunity for liturgical worship on campus in the Anglican tradition. Each week, students gather to worship according to the liturgy for Evening Prayer published by the Anglican Church in North America in the tradition of the Book of Common Prayer.
Eastern Engineering Society
The EES focuses on engineering projects and professional development activities. We also provide academic and administrative support and help streamline the matriculation process from Eastern to Villanova. Click here to learn more about Eastern's engineering program in partnership with Villanova University.
E.T.H.E.L.S (Swing Dancing Club)
E.T.H.E.L.S is a group devoted to teaching, practicing, and performing the art of Swing dancing. Students gather every Thursday night with the first half being devoted to actual lessons in swing and the latter half devoted to practicing those newly acquired skills.
Intercollegiate Studies Institute Montaigne Society
The ISI Montaigne Society at Eastern University is a collegiate literary society funded by the Intercollegiate Studies Institute and dedicated to discussion and debate of both contemporary events and ideas, and those values and principles which have formed the tradition of Western thought and culture. The society was founded by Templeton students and many Templeton students with an interest in politics, economics, philosophy, and social issues are members.
Templeton students often participate in Model UN, an academic competition similar to moot court in which students can learn about diplomacy, international relations, and the United Nations. The Model UN students travel to Harvard for an annual conference that mimics a real United Nations meeting.
Orthodox Christian Fellowship
The OCF at Eastern University gives Orthodox students and other students who are interested in Eastern Orthodox culture and theology a chance to learn about the faith, pray together, and more. The group meets for worship services, fascinating lectures by professors or local priests, and fellowship meetings to simply spend time together. Click here to learn more about Eastern's Center for Orthodox Thought and Culture.
The Eastern University Philosophical Society hosts lectures by professors from our own faculty as well as from other colleges. The society also sponsors an annual "Philosophy Reading Trip" for which students read and discuss a chosen text while staying at an idyllic cabin in the woods of central Pennsylvania.
SAB Plans, organizes, and facilitates numerous extracurricular events for EU students throughout the entire year.
Student Government Association
SGA gives students the chance to be more involved in university policy, procedural structure, and decision-making. This is a great opportunity to have your voice heard as a student, and many Templeton students greatly enjoy their time as a part of SGA.
Templeton Men's and Women's Bible Studies
The women's weekly Bible study is led by Anneke Lujan and features conversations on Biblical passages, usually focusing on a chosen theme for the semester. The men's weekly Bible study is led by Paul Charles and features topical study as well as evening prayer. These Bible studies foster community and encourage faithful conversation about Scripture.
This club is dedicated to fostering theological conversation and exploration on campus through a weekly discussion group as well as regular lectures, film screenings, and other such events.
Templeton students are often involved in the publication of Eastern University's school newspaper, The Waltonian. There are often Templeton students on both the editorial and writing staff.
Weekly Poetry Reading Group
Led by Templeton professor Dr. Fred Putnam, each week students gather for an hour long conversation around a poem, chosen by one of the students. These conversations begin simply with the question: "what do you notice?" and invite attentiveness to the text.