Welcome to the Cohort of 2019!
I would like to extend a formal welcome to the freshman cohort of 2019! On behalf of all of us who have found a home here at the Templeton Honors College, we are truly excited that you are joining us in the pursuit of good conversation and intentional study. The first year of college is peppered with an assortment of emotions: excitement, fear, frustration, and anticipation. Often, being tossed to and fro on this emotional spectrum results in whiplash. We become weary, much like our bodies after scaling a mountain in the Adirondacks. When we feel drained, it serves us well to breathe and reestablish our footing. I would like to extend some advice that will hopefully provide peace as you set out to scale this towering mountain we call college.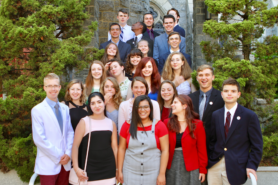 Cultivate a habit of humility. As Christians, it feels natural to speak highly of humility. We are commanded to humble ourselves before one another and before God. However, like other kinds of virtue, it is easier to talk about humility than to actually demonstrate humility. We must constantly habituate ourselves to a humble lifestyle. This can be difficult in an academic setting; we are constantly surrounded by intelligent people and thinking about lofty things. If the scholar becomes idle, he can rapidly descend into a feeling of false comfort. He is quick to critique, and can become easily satisfied with his own wisdom. Be aware that there are far too many individuals in academia who think this way. Remind one another that we are not here simply to absorb information and hold it hostage within our minds. We are given this opportunity so that we may better serve one another with gentle hearts and open minds. We cannot properly respond to this calling unless we approach each day and each class with humility.
However, do not be mistaken: there are occasions for confidence and courage. We can find assurance in what we know to be true. Sincerely believe that you belong here. God has placed each one of you here for a reason. Be reminded that you have so much to contribute to this institution in both words and actions. Find the courage to share your thoughts. Doing so is of great importance.
Recognize that your grades do not define your self-worth. It is difficult to unlearn the things we have been taught from a young age. Early in our lives, we are taught a very rigid and literal meaning of fruitfulness – one associated with the quality of our grades, rather than the quality of our education. However, when Christ says that those who abide in him bear fruit, I do not think He meant the letter grade on our essays or the marks on our math exam. We are created for a much higher purpose than simply following a scale of letters and numbers. You have so much more worth than what these academic measures communicate. Often times, these scales of evaluation become great distractions from our legitimate growth as learners.
"Finally, find peace in not knowing. Although you will eventually need to make decisions about your future major and career, be open to seasons of confusion, frustration, and exploration. Acknowledge that where you are right now is good. Use this time to discover the things that spark a flame of passion within you. Let me tell you a little secret: no one you meet here knows exactly what they are doing, regardless of what they may lead you to believe."
Although this will be a difficult journey, there is much beauty to be found in this wonderful adventure. I have faith that you each hold the potential to not just survive, but thrive in this community. Seek wisdom and find peace in the promises of the Lord. We are all so blessed to have you here.
Audrey Farmer ('22) is a Templeton Scholar studying Mathematics with a concentration in Pre-Engineering. Her other academic interests include Greek, poetry, and philosophy. During her free time, she loves to create art, talk about numbers, and spend quality time with her friends and family.