Peter A. Benoliel on the Value of the Humanities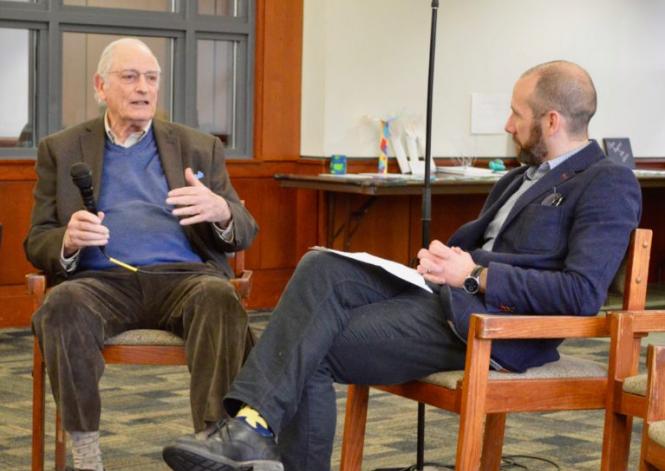 Every Templeton student eagerly awaits the yearly email that bestows him or her with the opportunity to receive tickets to a play, opera, ballet, or concert, all thanks to the Benoliel Arts & Culture Series. While students in the Templeton Honors College are extremely grateful to Peter A. Benoliel, patron of the Benoliel Arts & Culture Series, many may not know much about Mr. Benoliel, his own education, or his reasons for prioritizing the arts and humanities.
Fortunately, Mr. Benoliel was invited to speak at Honors Forum on February 16, 2018, where he discussed music, art, and science, and how the two former topics directly relate to the latter. Mr. Benoliel has a truly formidable resumé; he received a degree in Philosophy from Princeton University ('53), served in the US Navy for three and a half years, and worked for Quaker Chemical Company for 40 years, serving as CEO for 26 years.
Mr. Benoliel has been retired since 1997, but he has remained remarkably involved in the Philadelphia art scene, serving as a director of the Free Library of Philadelphia Foundation, the Library Company of Philadelphia, and the Philadelphia Museum of Art. He also previously served as chairman of the board of Philadelphia Orchestra, Emeritus Trustee of the Curtis Institute of Music, Chairman Emeritus of Settlement Music School, and a member of the Templeton Honors College Advisory Council. One of the main passions of Mr. Benoliel's life is music: he is an avid violinist and appreciator of music, playing with the Associated Chamber Music Players, and acting as an honorary member of the Japanese Chamber Music Society.
Although music plays an exceptionally large role in Mr. Benoliel's life, he also loves literature and history. During his talk, he encouraged students to read Mark Twain's The Adventures of Huckleberry Finn. Mr. Benoliel has read Twain's text three times, and he feels that his appreciation of it has changed each time. "Two overpowering things I take from that is the absolute nobility of Jim. Here is a beautiful human being, and someone that I've grown to love. I love the man and think that no matter what I may or may not accomplish in life, my soul just can never be as beautiful as Jim. The other thing is the epiphany that Huck has; he goes through this torment, he feels that he's sinning [by not reporting Jim as a runaway slave]. I love it when he says that he will go to hell, but he won't turn Jim in."
Having a strong liberal arts education is what Mr. Benoliel believes makes a great CEO. "My job was to enable people, and to enable people you've got to understand, to be empathetic and to play to their strengths. You have to know how to inspire, articulate, and present visions." These are the very skills being fostered by the Templeton Honors College curriculum, according to Mr. Benoliel. "That's what you're preparing for. That's going to be the pay-off. That's far more important than knowing how to do a discounted cash flow," Mr. Benoliel says.
When asked about a specific "humanities moment" in his life, Mr. Benoliel reflected that he cannot remember a time before music, or when he did not want to play the violin. A passion for music is a part of Mr. Benoliel's earliest memories, and he feels that the humanities play a pivotal role in preparing him for different jobs. Having a strong liberal arts education, Mr. Benoliel says, prepares you for any job. "It prepares your mind, it prepares you to learn, how to read with comprehension, how to analyze," Mr. Benoliel says. "You learn how to synthesize, which enables you to bring all those skills to bear. By reading philosophy and literature, you get more and more insight into the human condition."
The Templeton Honors College thanks Mr. Benoliel for his wonderful talk on the value of the humanities, and for the insights into how the liberal arts education shapes his life.
SaraGrace Stefan ('18) is a Templeton scholar studying English Literature, Creative Writing, and Political Science. She is also editor-in-chief of the student-run Waltonian newspaper.