Living the High(lands) Life: Stories from Scotland
Last semester, I studied abroad at the University of St. Andrews in Scotland. During my time there, I studied classics, took Scottish Country Dance lessons, sang in a choir, traveled all around the area, and published a blog about it all! The following is a blog post from October 2021, written after a trip to the Highlands. To read more about my semester abroad, visit www.ellensthoughtsandthistles.com.  
Last week was Independent Learning Week, also known as Reading Week. Don't be fooled by the studious-sounding name; ILW is a week off from classes during which we can choose to learn independently or do something else. I didn't do much reading last week, but my friends and I did learn a few things independently on a trip to the Highlands! 
Initially, we had planned to take a trip to London, but we were advised to see the Highlands in the fall to avoid nasty winter weather. London may be delightful in a December flurry, but the Highlands will be freezing cold and too difficult to navigate on public transport. At this time of year, however, the Highlands are bedecked in fall foliage and veiled in mist–the kind of scenery that Americans imagine when they hear stories about Scotland. Despite the nicer weather, we still had our share of public transportation hiccups, but more on that later.
Tuesday, October 19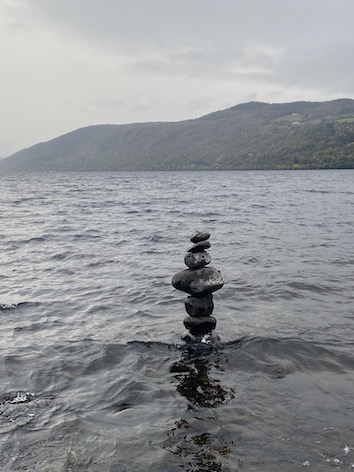 On Tuesday morning, we set out from St. Andrews for Inverness, one of the major cities in northwest Scotland. After a 3-hour train ride, we picked up some hot chocolate and worked on getting a bus to Loch Ness. While the public transportation in the Highlands is still better than most places in the US, options are fewer and further between than in St. Andrews or near Edinburgh. If you miss a bus, there won't be another one coming in 10 minutes, and you may find yourself waiting many minutes or even several hours for the next bus. Fortunately, we found a bus that would take us to Loch Ness in time to spend a few hours there in the afternoon. 
Our bus took us to Dores Beach, on the northeast corner of Loch Ness. We walked on the pebble beach for a while, then found a hiking trail nearby that took us to some other views of the lake. Walking through the fog amidst the ferns and trees felt like walking through Middle Earth, or the Forbidden Forest in Harry Potter. The enchantment of the afternoon peaked when we spotted a cairn near the shore of the lake! These stacks of stones feature in traditional Scottish legends and folktales, and it was so exciting to find one at Loch Ness, the fantastical setting of some of these legends. 
On our way out of Loch Ness, we passed the Nessie Independent Research Centre. This is a mobile home structure belonging to Steve Feltham, who has been conducting "Nessie-sary Independent Research" on the Loch Ness monster and selling Nessie figurines since 1991. Sadly, we didn't have time to chat with Mr. Feltham before catching the bus back to Inverness, but I would have liked to give him the chance to persuade me that Nessie is real. 
Wednesday, October 20
We got up early Wednesday morning to catch a bus from Inverness to the Isle of Skye. The bus ride started off well enough, as we ate takeaway scones for breakfast and enjoyed the scenery out our windows, but then I received an unfortunate text message. We had planned to stay on the Isle of Skye for th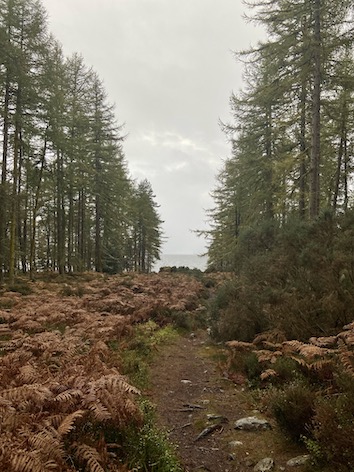 e afternoon, then take the last ferry to Mallaig, a coastal town on the mainland where we could travel to other towns nearby. The ferry was canceled due to a bad weather forecast, leaving us stuck on the Isle of Skye for the night. When I had cell service on the bus ride, I found a hotel room for us on the Isle of Skye and we adapted our plans to stay an extra day on Skye and travel back to St. Andrews the following evening. 
When we arrived in Portree, the main town on the Isle of Skye, we were not disappointed to be staying there for an extra night. It was rainy on Wednesday afternoon, so we were advised not to go on any hikes until the weather cleared up. So, we went on a short walk overlooking the harbor in between showers and stopped in some of the shops in Portree. I picked up a Fair Isle sweater from a community market and a print of the Old Man of Stoor to hang up at home. We had fish and chips for dinner and went to bed, preparing for a clear day of hiking and traveling in the morning.
Thursday, October 21
After checking out of our hotel on Thursday morning, we boarded a small bus for the Old Man of Stoor, a rock formation in the hills of Skye. The rock formation sits at the peak of an uphill hike, but we were better prepared this time than we were at our attempt to hike Arthur's Seat in September. This time, the weather was nice and sunny, but not too warm, and we had plenty of water and good shoes. We did have to take several breaks on the way up, but the view at the top was worth the effort. While we were taking pictures at the top, a pop-up shower came through, bringing some pretty gusty winds along with it. At one point, we were all hunched down to the ground, because it felt like we might be blown over a cliff if we stood up! The upside to the rain was that we saw a rainbow at the top of the hill, one of several others on this trip.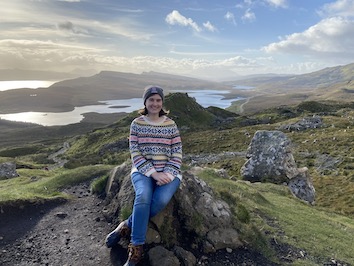 After our descent down the hill, we went back into Portree for a well-deserved lunch break. After lunch, we still had about 2 hours to kill before our bus back to Inverness, so we went on another hike in town, the Scorrybreac Circuit. This hike was mostly flat, but gave us some good views of the Portree harbor, Loch Portree, and a seal swimming in the water below us!
After picking up some things to eat for dinner, we boarded our bus back to Inverness. As fun as the trip had been, it was nice to relax and enjoy the Highland scenery, knowing we were on the way back to St. Andrews. Many of the mountains we passed were dusted with snow at the top, signs of winter coming into the Highlands. We changed buses in Invergarry, using the layover time to eat dinner. As the time went by, it soon became clear that our next bus was late, which cast a shadow of doubt on our scheduled train departure from Inverness. When the bus finally arrived 25 minutes behind schedule, I checked my phone and discovered that we could still be at the train station in time for the last train out of Inverness. This bus ride was on a rather winding road near Loch Ness, with several sections that were only one lane due to roadwork. Plus, it was now dark outside, my coat had become rather warm, and I had not eaten quite enough dinner to have an easy stomach. All this to say that I was concerned about... well, you can imagine. Thankfully, we made it to Inverness without incident, with enough time to catch our train. 
The travel problems didn't end there, unfortunately. We only had 8 minutes to change trains in Perth, and our train from Inverness to Perth was also running behind schedule. As we neared Perth, I kept checking the ScotRail app, wondering whether we would make this connection and contemplating the unhappy fact that we would have to take the train into Dundee after midnight if we didn't get to Perth in time. When we arrived in Perth, about 10 minutes late, we ran to the next platform, where our train was (thankfully) still there. I may have yelled toward (not at) the conductor to please wait for us, but we boarded the train and were soon on our way to the next station. Then, we made one final change to the train for Leuchars and were nearly home in St. Andrews. After one more short bus ride, we arrived back at the residence hall, thoroughly exhausted after an eventful trip.
As we were hiking to the Old Man of Stoor, I couldn't help but remember my freshman camping trip in the Adirondacks with the Templeton Honors College. That was less than 4 years ago, but in many ways I was a completely different person. I was terrified of being so far from home with a group of new friends, but I soon settled in and found my place there. Back then, I don't think I could have dealt with a canceled ferry, last minute hotel reservations, or late buses and trains. This trip to the Highlands, and my semester in Scotland in general, has made me realize how much my confidence has grown since starting college, for which I am grateful.