Join Us for Honors Forum: A Hidden Life (Film Screening)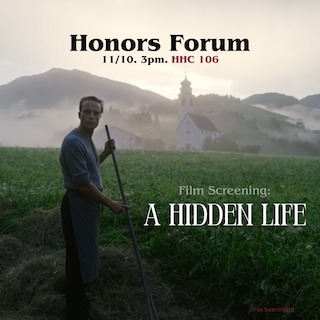 Join us for a screening of A Hidden Life. This film by acclaimed director, Terrence Malick, explores the life of Franz Jägerstätter, an Austrian citizen who became a conscientious objector during World War II. Malick, who is justly called the poet-philosopher of American cinema, deftly balances the tragic and the beautiful as he illumines Jägerstätter's development toward moral conviction. This journey leads Jägerstätter to the martyr's fate. The result is an experience that can only be called sublime.
A quote from George Eliot's Middlemarch hangs over the film:
"..for the growing good of the world is partly dependent on unhistoric acts; and that things are not so ill with you and me as they might have been, is half owing to the number who lived faithfully a hidden life, and rest in unvisited tombs."
We can be thankful that Jägerstätter's life remains hidden no longer, but stands now as an attractor toward the true, good, beautiful, and holy.