Celebrating the Cohort of 2015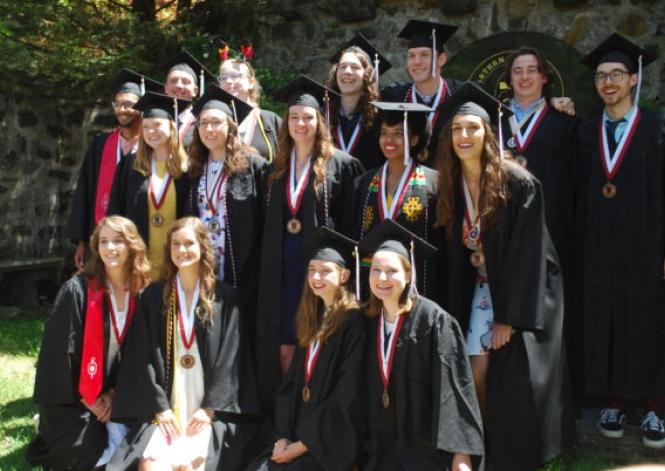 Congratulations to the Templeton Honors College Cohort of 2015, who graduated on May 11! It is a time of celebration, of grief and gratitude, as they leave this community that has formed them. It is too, a time of excitement, as they move on to a new stage of life and new communities. Here is a look at what many of the members of the 2015 Cohort will be up to in the coming months after graduation!
Hannah Andrews graduated with a degree in Communications Studies. She spent her final year studying abroad in Los Angeles, California. She is currently a marketing intern at CHA Consulting Incorporated.
Anthony Barr will spend the summer studying political theory and foreign policy in Washington D.C. with the Hertog Foundation. In the fall, he hopes to be back in the Philadelphia area working in the education sector. After gaining more work experience, Anthony plans to attend graduate school to study within the humanities. While he still hasn't figured out what he wants "to do with his life," Anthony hopes to marry, raise a family, publish a few books, and maybe run a 5k. Maybe. Anthony majored in English because he is in love with literature and cannot flourish without it. He also majored in History because he recognizes that the past provides us with crucial context for understanding ourselves, others, and our world. He also minored in Orthodoxy because it sounded interesting (and it is)!  
Mary Katherine (MK) Bucko
In the fall, Mary Katherine (MK) Bucko will be attending University of Notre Dame for graduate studies and pursuing the Master of Sacred Music with a concentration in vocal performance. She chose to major in music while at Eastern because she loved both to sing and to study music history and wanted to delve deeper into the practice and art of singing. MK is grateful for the rich community that she has found in the honors college, especially in her cohort. She will never forget the times spent singing compline with dear friends in the Walton chapel, time spent in beloved professors' offices in meaningful conversations about both the subject of classes and life, and so much laughter, fun, and deep conversation in the woods during the Winter Retreat.
Gianna D'Afflisio will be taking a gap year before she goes to medical school. During her gap year she will be working in a lab doing biomedical research. Gianna chose to study biochemistry while at Eastern because it perfectly combined her love for chemistry with her desire to learn about the "why" behind life's beauty.
Bekah Edwards plans to work until she applies for graduate school for history. She recently accepted a position to be a project coordinator and occasional executive assistant at Kinext LLC. She will be working there and at Nudy's Cafe until the call to be a student summons her from work. She chose to major in history at Eastern because she thinks that everyone should be a history major–we all should know where we come from. When reflecting upon her time at the honors college,  Bekah would like to thank all the lovely people she has met in THC. They all mean so much to her, and her experience at Eastern would certainly not have been the same without them.
Alysia Green graduated with a degree in Biblical Studies.
In the fall, Kristen Haldeman will attend Duquesne University for the Rhetoric and Philosophy of Communication on a full scholarship. Kristen doubled majored in Spanish and Communications because she believes them to be the most practical subjects. Kristen is very excited for her next program because she feels that it is a combination of both communications and Templeton. Templeton helped to open her mind to asking different types of questions and how to engage in meaningful conversation.
This summer, Alyssa Heric will matriculate at the Rowan University School of Osteopathic Medicine. At the moment, she plans to pursue a career in Emergency Medicine, but everyone should stay tuned because that might change. Alyssa majored in Music with a concentration in Worship Arts and a minor in biochemistry, in addition to completing the pre-medical track. She took this slightly a-typical path because she wanted to spend her time in undergrad studying something because she loved it and because it would be good for her soul.
Brennan Kastens graduated with a degree in Secondary Education and Mathematics.
Chris Kuz graduated with a double major in Biblical Studies and Economic Development and married fellow Eastern graduate, Rachael Graham.
Ben Lochstampfor is moving on to a position as a Financial Advisor at Equitable Holdings in Bala Cynwyd. Ben chose Marketing as his major during his time at Eastern because he wanted to seek a business degree and had always felt drawn to the "selling" aspect of marketing.

The Cohort of 2015 after their Freshman year camping trip.
Emily Matzinger will be pursuing her Masters in Social Work at Marywood University. She hopes to continue working with vulnerable populations, especially pregnant and parenting young mothers, in order to provide support and resources. Emily chose to major in social work because of her love for people and communities. She hopes to use her studies as a tangible way to love and serve her neighbors, and to learn more about her community.
Luke Megonigal will be pursuing an MS in Mechanical Engineering at Villanova University. Luke majored in mathematics at Eastern because he enjoys the subject as a liberal art and as it applies to the physical world.
Justin Nikles will be starting a full-time role at SAP Software Solutions in July. He also plans to start an M.S. in Cybersecurity program at Villanova in the Fall. Justin majored in math because he genuinely missed math (which is something that his high school self never thought he would be saying). He was also interested in physics and engineering, but he ended up following the cybersecurity track when he discovered a greater interest in computer science. The community in the math department was a huge part of his development at Eastern. Justin wishes that he would have spent more time in the offices of his professors, but he is extremely thankful for the times that he did spend there.
Danny Pavao graduated with a degree in Computational Mathematics and Data Science.
Starting in August, Lynnsey Rebner will be attending Western University of Health Sciences in Pomona, California to pursue a doctorate in Osteopathic Medicine. While at Eastern, Lynnsey majored in Biochemistry and minored in both Spanish and Astronomy. She chose Biochemistry because she wanted to have the broadest study of science possible, and also had the chance to study abroad in beautiful Sevilla, Spain for a semester.
Katarina Rorstrom is planning on living the good life but has not quite figured out what that means for her life specifically. She is spending the summer in Kansas with her family, working with an autistic student, volunteering at various church camps and reading more books while thinking and praying about the future. Katarina  loves literature and thought that the performing arts would be an interesting way of getting inside of the text, so she created her own major that would allow her to study both. Reflecting on her time at the Honors College, Katarina sees that Templeton introduced her to great books and helped her interact with them, but it also introduced her to great people and gave her four years with them. They have all made their mark on her picture of what a good life looks like.
Tom Sims graduated with a degree in Biology and was an active participant in the Orthodox Christian Fellowship. Upon graduating he will be moving to Phoenix, AZ and working at a Great Hearts Academy.
Micah Skinner will be beginning his MS in Cybersecurity at Villanova University this summer, and should finish in a little over a year. The most pressing concern for him at the moment is to finish compiling his Summer reading list. Micah initially came in thinking he would do PPE (Political Science, Philosophy, Economics) but as he fell in love with the humanities, he pivoted into Mathematics. He blames Walter Huddell. Micah is beyond thankful for his cohort and the amazing faculty who made the last four years possible.
Abigail Stevens plans on continuing her post-graduate education in the coming years in Sustainable Economic Development and Systems Design. She hopes to work in both the nonprofit and for-profit business sectors in South America. She is currently working on implementing her research in community-based strategies to improve reentry housing systems for returning citizens coming out of prison in Bend, Oregon. Abigail chose to major in Economic Development because of its unique blend of economics, entrepreneurship, sociology, anthropology, policy, and community development. She wanted to think critically and compassionately about issues of public and economic justice, specifically concerning those living in poverty, and her studies have given her some of the tools to practically address these complex issues.
Elise Sweigart will be working as a math teacher for Anthem Preparatory Academy a Great Hearts School in Anthem, AZ. Sometime in the near future, she will be getting married to Thomas Sims, another THC graduate. They hope to raise a large family together. Elise studied mathematics at Eastern because she was inspired by Dr. Walt Huddell's love of the subject. Elise's time in the Honors College was extremely formative. She found that perhaps even more influential than the great texts were the great men and women who were formed by those texts and bore witness to their truth, beauty, and goodness. She could never have asked for better professors and mentors than the ones she found at Templeton.
Jesse Whiteman is continuing his time at Eastern University and will be employed by the College of Business and Leadership in the position of Academic Quality Specialist. In addition, Jesse will be pursuing an MBA from Eastern during his employment. Jesse chose to major in Economic Development during his undergraduate at Eastern because he felt called to use his skills and abilities in areas of social change and community problem solving.
Mary Katherine Bucko, cohort of 2015, is a native of Philadelphia. In her free time, she enjoys hiking and canoeing, singing Renaissance polyphony, and spending time with her beautiful family.