Anthony Lawton Performs The Great Divorce
"Call it brilliantly-conceived, skillfully written, superbly executed, and you will have scratched the surface of it. Call it thrilling, wonder-filled, gut-wrenching, breath-taking, and you will be closer to the essence of it….I came away from that theatre feeling like I had experienced the full impact of C. S. Lewis' creative power for the very first time."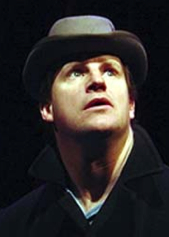 The Templeton Honors College is thrilled to invite back Anthony Lawton for his one-man performance of The Great Divorce. Having attended this event in the past, I urge you to come and join us this year, as it is not to be missed. It is an utterly enjoyable performance and one I found myself enraptured by from beginning to end. Whether you are a lover of C.S. Lewis's book, or this will be your introduction, Lawton's play is exceptional.
Anthony Lawton has adapted C.S. Lewis' novella into a skillful 75-minute performance. The play tells the story of Clive, who, along with a motley crew of malcontents, takes a bus ride from hell to heaven.  They are offered a chance to stay in heaven forever if they like, but the choice between joy and miserable loneliness proves to be much harder than they would have guessed. The piece is a feast of rich language, profound psychological insight, and humor. And Lawton's performance is lively (to the point at which it seems hardly likely there is merely one man on stage).
Chiara Behm, Cohort 2016, is a Templeton scholar majoring in Classical Studies and minoring in European History and English Literature. Outside of the classroom she may or may not be up to no good…. In the future she hopes to teach Latin at the high school or collegiate level.