Annika Pickard Talks Templeton Communications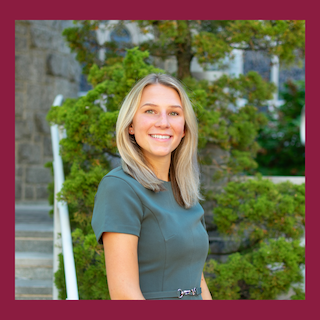 Austin Ricketts, Director of Recruitment for the Templeton Honors College, interviews Annika Pickard, the Templeton Intern for Communications and Social Media. From Aristotle to Instagram, here's what they discussed:
So, Annika, why Communications?
I picked Communications as a major because I love talking and never stop talking! (laughs) But really because I love interacting with other people. When I was younger, I used to conduct pretend interviews with people. I pretended to create newspapers, websites. I was into Theatre. And I really love public speaking.
How is Communications unique as a major?
Communications is a combination of sociology, philosophy, psychology, which is a really interesting mix. As I've gone deeper into my Templeton classes, I've seen that much of communications is based on older philosophies, particularly Aristotle's Poetics. Solid communication tends to follow a narrative arch.
At Templeton, we're all familiar with Aristotle, but many people may not be. Could you say more on that?
That's a good point! Actually, something that I've learned to do in light of my major is to translate big ideas into accessible material. This is really helpful when engaging different audiences. You can use this skill in your writing. You can use it to strengthen team dynamics. You have to know your audience.
Speaking of knowing your audience, Templeton is a serious place. But we love to joke around! I've seen you tap into that side of Templeton with some of your posts.
Yes! With a number of our Instagram posts, I've been showing the playful side of Templeton. We have some fun reels, student takeovers, and a couple of videos. I think humor creates a bond and entices others to join in on the fun. Check out our videos about the Roman empire and our Monster Mash video!
Thanks, Annika! And great work on those videos!