2023 Ingles-Paideia Award Winner Announced: Morgan Robinette
The Ingles-Paideia Award
The J. Wesley Ingles/ Paideia, Inc. Award, is given annually in memory of Dr. James Wesley Ingles, Professor and Chairman of the English Department at Eastern Baptist College, to the graduating senior in the Templeton Honors College who most embodies the values of the College: truth and learning, wisdom and virtue, stewardship and service. The recipient is selected by an anonymous vote of the Templeton faculty, staff, and graduating seniors.
2022: Ellen Francis - Major in Classics
2021: Sarai Gonzalez - Double Major in Mathematics & Spanish 
2020: Co-Recipients

Abigail Webb (Taylor) - Major in Philosophy
Phillip Piper - Major in Mathematics

2019: Micah Skinner - Double Major in Mathematics and Engineering
2018: Ian Wright - Major in Theology
2017: Co-Recipients

Madeline Harris (Harris-Lerew) - Major in Philosophy
Jordan Kolb - Major in English Literature

2016: Mary Eliot (Franks) - Major in Philosophy, Sociology, and Economics
2015: Jocelyn Paul - Major in Chemistry (and Graduate of MAT '21) 
2013: Joy Mears - Major in Philosophy
Morgan Robinette
THC Professor of Biblical Studies, Dr. Fred Putnam, Introduces Morgan Robinette at the Class of 2023 Senior Banquet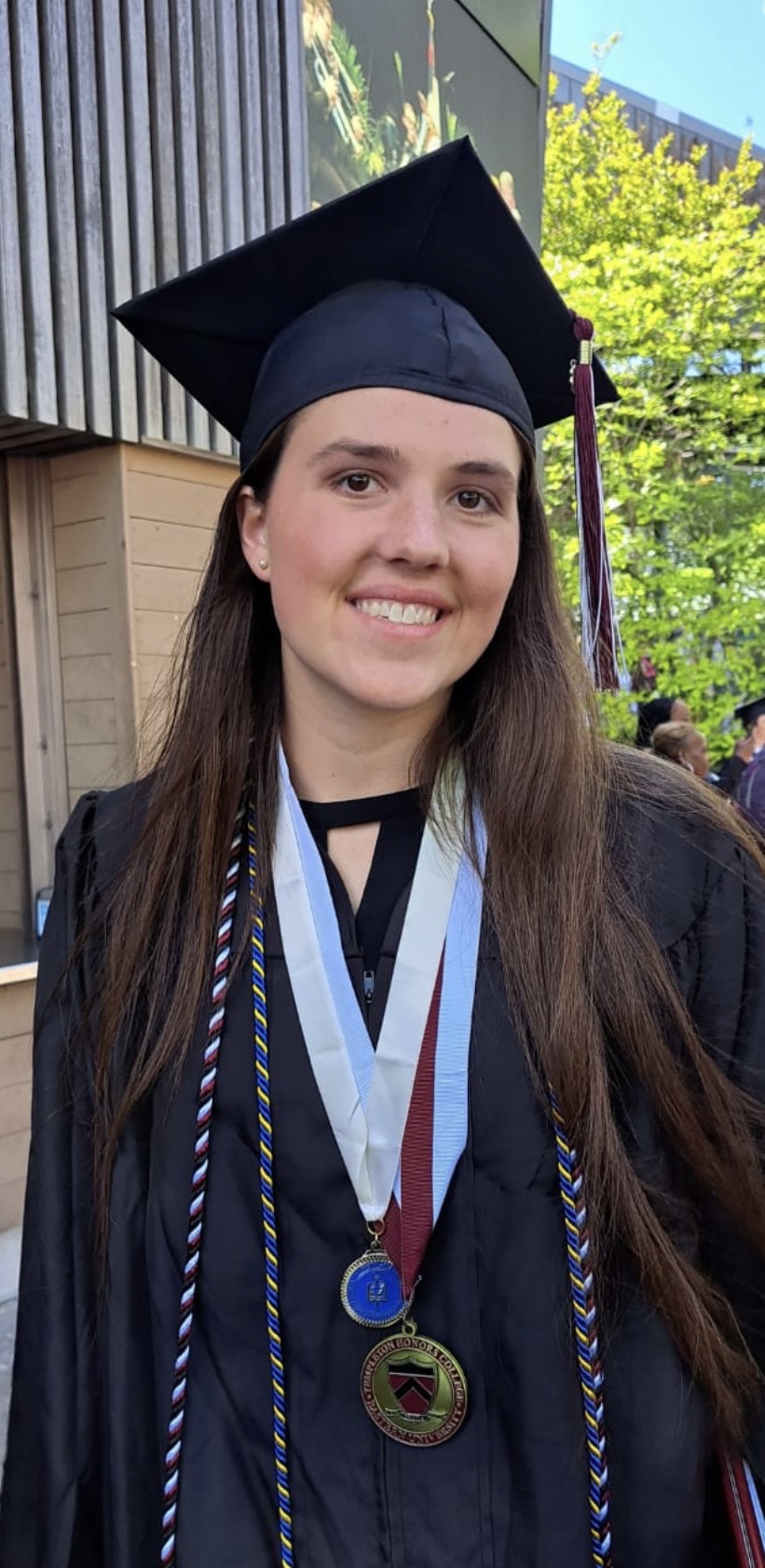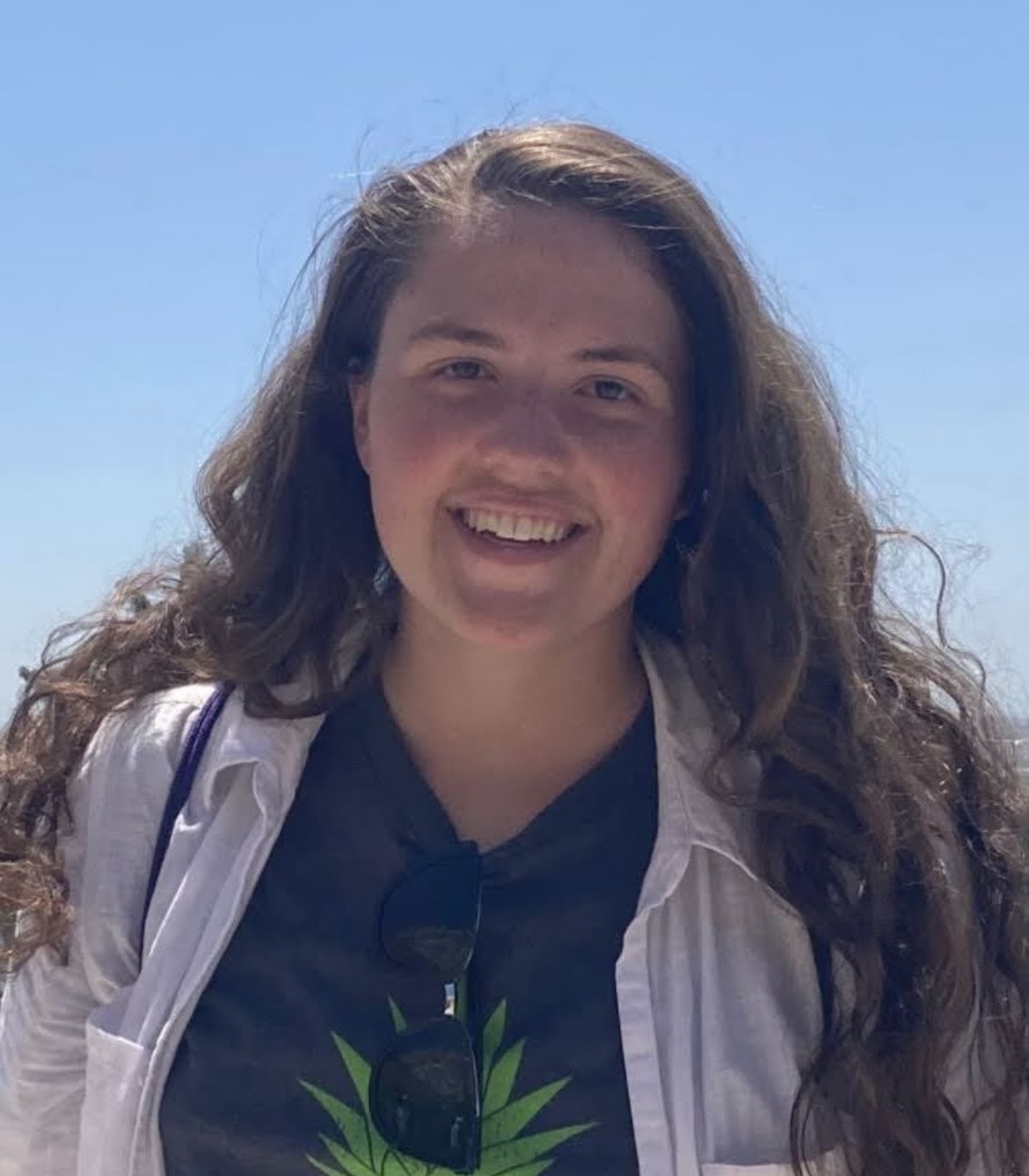 This year's award goes to a Templeton scholar who outstandingly and overwhelmingly exemplifies the values recognized by the Ingles Award. Consistently, from her first day among us this student has addressed every question and situation with grace, wisdom, humor, and her generous smile that lights up the room and our lives. Kind, generous with her time and talents, her presence and conversations have blessed us, her professors, and encouraged us by the commitment to Jesus that undergirds her studies and her life.
It is difficult to imagine Templeton without her cheerful unwillingness to settle for anything less than God's best, which has implicitly reminded us that his best is very good indeed.
Last spring, as part of her semester abroad, this year's student commencement speaker helped anchor a relay team that ran—and placed—in the Dead2Red race through the desert that took the Israelites 40 years to cross—150-miles from the Dead Sea to the Red Sea. She hails from "the middle of nowhere Pennsylvania", whither this biochem major plans to return in order to begin medical school at Penn State this fall. I would gladly have her as a guide—medical or otherwise—on my up-hill road; your votes suggest you would as well.
Please join me in honoring our sister in Christ and our friend, the 2023 Ingles Award recipient: Morgan Robinette.
fred putnam
Eastertide MMXXIII
Senior Banquet, Cohort of 2019
23.iv.MMXXIII
Provost Kent Sparks introduces Morgan Robinette as the Student Speaker at Commencement 2023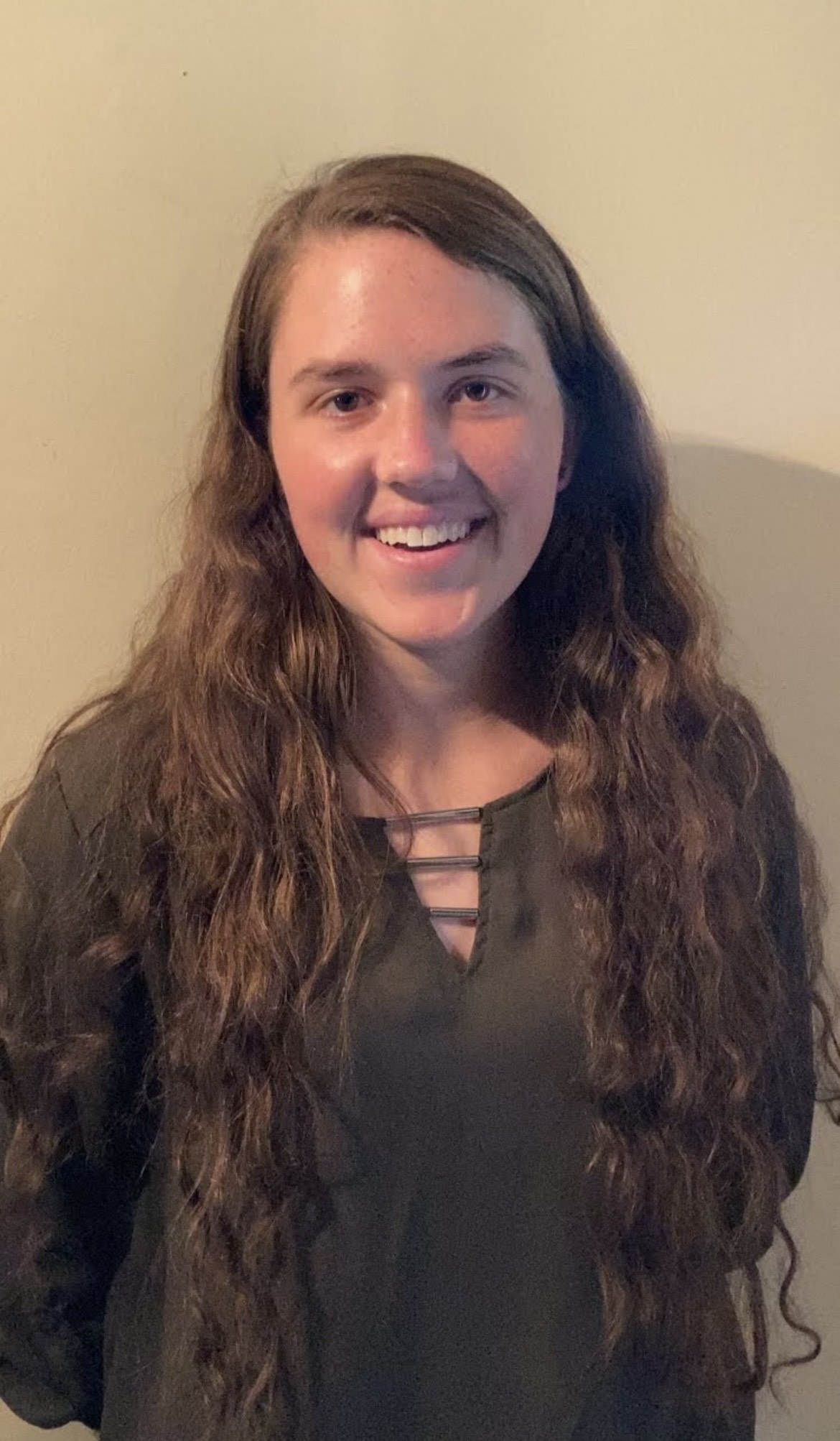 It's my pleasure to introduce our student speaker this afternoon. Morgan Marie Robinette is graduating today from the College of Health and Sciences and the Templeton Honors College, with a Bachelor's of Science degree in Biochemistry.

Morgan Robinette hails from Lewistown, which she describes as "a small town in the middle of nowhere, PA." One of the first joys of her move to Eastern was to have a Chick-fil-A only ten minutes away; a concept foreign to most living anywhere between Harrisburg and the Ohio border. During her studies at Eastern, Morgan has been a student in the Templeton Honors College and a student staff member on Templeton's annual Adirondacks trip. She has worked as a Lab Assistant for the Chemistry Department, hiked up the McInnis stairs for too many 8am labs, and, in her last semester, played on Eastern's Women's Tennis Team. By the "grace of God," says Morgan, she was accepted to medical school and will start at Penn State in July. She is interested in global health and, after studying abroad in the Middle East last year, hopes to return to the region and serve as a physician in its refugee communities. She is grateful to God for the richness of her four years at Eastern and extends her thanks to all of you who are listening today.
Templeton Honors College Senior Banquet Speech by Morgan Robinette
Given April 23, 2023
To start, I would like to thank you for nominating me to receive the Ingles Award this year. I mean it when I say I am deeply honored by this. If you would have told me four years ago just before my high school graduation that I would receive an award like this from an institution like Templeton, I probably would've laughed out loud. For someone who went to public school in po-dunk nowhere and had never read Homer, heard of Virgil, or properly pronounced So-crates, I have grown so much during my four years in Templeton and am grateful for each one of you who has been a part of that.
Before I speak about my most formative bit of writing, I have to say more about the person I was before I came to THC. I grew up in a home that was not areligious, but one in which faith was not a key part of life. My parents are "Chreasters," meaning that they go to church on Christmas Eve and Easter. For the majority of my life, my faith and spiritual formation has come from the hours during my teenage years that I spent laying on my bedroom floor, reading through the NLT Bible I found in a dusty corner cupboard along with a Bible commentary I found on an even dustier bookshelf. When I first began seeking God, my faith felt like a lonely place, but God, in His mercy and grace, turned my loneliness into aloneness, which with Him is often deep and tender fellowship with the Father, Son, and Holy Ghost.
At home, I can talk about my faith and relationship with Christ, and my parents will listen, but they don't talk back. They can't talk back. But when I came to Templeton, for the first time in my life I found an entire group of people my own age who were also deeply in love with God. For once in my life, I found people who could talk back. Moreover, people have been loving Christ since He came to earth, since He lived here and breathed here and suffered here and died here. And they've been writing lovely, beautiful things about Him for two thousand years. Thanks to the THC curriculum, I entered into those conversations, too.
One such voice is that of St. John Chrysostom, whose Paschal Homily nearly made me tear up after Dr. Smith passed it out at the end of a Rhetoric class one day. With every word, I could hear the triumph in his voice, the triumph we who call ourselves Christians possess and proclaim because of who our Savior is. For someone whose exposure to theological writing prior to Templeton was Genesis to Revelation with not a whole lot else, reading such a beautiful description of the life Jesus offers through His death and resurrection moved me enough to almost make me cry even as I stood in a dull, ugly classroom in McInnis.
And I never would have met St. John Chrysostom if I hadn't come to THC. So I am deeply, deeply grateful for the past four years, for the conversations I've had, and for the chance, for the first time in my life, to enjoy a rich and vibrant Christ-centered community.
The Paschal Homily of Saint John Chrysostom
If you are devout and love God, enjoy this beautiful and radiant festival. If you are a grateful servant, enter, rejoicing, into the joy of your Lord. If you followed the fast, receive your payment now. 
If you worked from the first hour, receive today your just reward. If you came after the third hour, you are welcomed to celebrate. If you arrived after the sixth hour, have no doubt; for you suffer no loss. If you delayed until the ninth hour, come near with no cause to hesitate. If you arrived even at the eleventh hour, do not be fearful of the lateness; for the Lord is generous and accepts the last as He does the first. 
He gives rest to him of the eleventh hour, as to him who worked from the first hour. He shows mercy to the last and attends to the first. To the one is given and to the other is granted. He accepts the works and welcomes volition. He honors the act and praises the intention. 
All of you, therefore, enter into the joy of our Lord; both first and last, receive your reward. You rich and poor, with one another dance. You who are abstinent and you who are indolent, honor this day. You who have fasted and you who have not fasted, be glad today. The table is richly laden; all of you, feast sumptuously. The calf is plentiful; let no one depart hungry. All of you partake of the banquet of faith. All of you enjoy the wealth of goodness.
Let no one deplore his poverty, for the Universal Kingdom has been revealed. Let no one lament for transgressions, because forgiveness has dawned from the Tomb. Let no one fear death, for the death of the Savior has set us free. 
He subdued it when it took hold of Him. He despoiled Hades when He descended into Hades. He embittered it as it tasted of His flesh. And anticipating this, Isaiah cried out, "Hades was embittered when it encountered You below."
It was embittered, for it was abolished.

It was embittered, for it was mocked. 

It was embittered for it was mortified.

It was embittered, for it was dethroned.

It was embittered, for it was enchained. 
It received a body and came to God. It received earth and met up with Heaven. It received what it saw and stumbled upon what it did not see. Death, where is your sting? Hades, where is your victory? 
Christ is risen, and you are overthrown.

Christ is risen, and the demons are fallen.

Christ is risen, and the angels rejoice.

Christ is risen, and life rules.

Christ is risen, and not one is to be found dead in the tomb. 
For Christ rising from the dead has become the First to awaken among those who are asleep. 
To Him be the glory and power to the ages of ages. Amen.