2019 Alumni of the Year
Brandon and Rebecca Zimmerman ('05 and '08)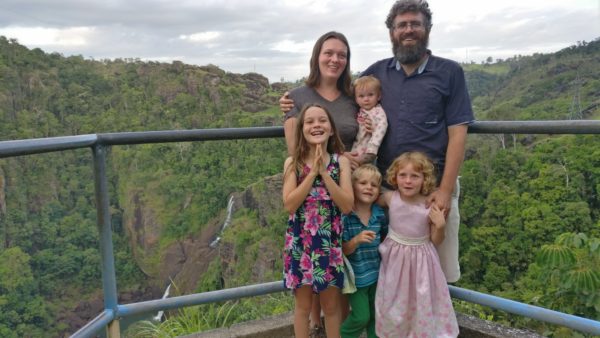 Brandon Zimmerman graduated from Eastern and Templeton in 2005 with a double major in history and philosophy with a minor in political science, before going to earn his MA in Philosophy at The Catholic University of America in 2009. 
Rebecca (Smith) Zimmerman also graduated from Eastern and Templeton in 2008, with a degree in Missions and Anthropology. The two married, and are now lay missionaries in Papua New Guinea since June 2013 with their four children, Anastasia, Tabitha, Tobiah, and Perpetua.
Rebecca is a part-time librarian at the Catholic Theological Institute (CTI) Bomana and a homemaker.  Brandon is Dean of Studies at CTI, a Catholic seminary in the capital of Papua New Guinea.
The couple also currently work together on the South Pacific Journal of Philosophy of Culture, for which Rebecca designed the website:  https://sites.google.com/view/spjpc. Rebecca has done some teaching in Anthropology, English, and Computer Skills. In her free time, she enjoys baking, canning, sewing, gardening, reading, and Ultimate Frisbee.  
Brandon is currently  a doctoral candidate in Philosophy at The Catholic University of America, writing a dissertation on Aquinas, Plotinus and Creation as a philosophical idea.  He also serves as the Secretary for Ecumenical and Inter-Religious Dialogue for the local Catholic Church in PNG and is now involved with the Melanesian Association of Theological Schools and their journal, Melanesian Journal of Theology.  
Brandon and Rebecca live scholarly lives while remaining attached to the land, hiking, gardening, and learning to use local foods to sustain and relax their bodies, while engaging in scholarly pursuits to sustain their minds. Brandon shares that he and Rebecca seek to bring Christians together to discuss the faith and learn from each other. Through their work in education, they seek to empower students to bring all thoughts captive to Christ, building up a generation of Christian scholars for the service of the local and universal Church.