2015 Alumna of the Year
Frances Bissell ('12)
When asked about her time in the Templeton Honors College, alumna Frances (Garrett) Bissell reflects, "The Honors College taught me to allow myself to ask questions and to be a person of depth. I learned to think not about what one person can accomplish on their own, but how someone can do great things as part of a community."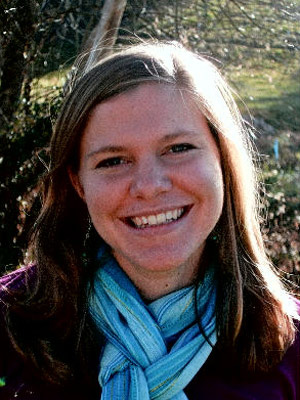 Frances, a 2012 graduate of the Templeton Honors College, has found herself working, learning, and serving in the context of community for the past three years. As the director of caregiving at the Timothy House in Athens, Ohio, Frances supervises all day-to-day operations and interactions between caregivers and residents. Timothy House is one of twenty initiatives that make up Good Works, a nonprofit that aids those who are struggling with poverty and homelessness in rural Appalachia. Serving fifteen people at a time, Timothy House is a transitional house of sorts, a temporary place for people to stay until they are able to find permanent housing.
To hear her tell it, Frances' passion for community building was first nurtured during her college years. "My lifelong friends are those that I made in Templeton, and my first year I learned so much about learning and how it can be a calling, how it can be fun to learn in community with others," she comments. A Social Work major and Spanish minor, throughout college Frances was inspired by the opportunity to minister to marginalized populations. During her semester abroad in Mexico, she was an active participant in a campus ministry at the Universidad de Las Americas Puebla, and she reflects on this semester as one in which she truly confronted the reality of poverty. After graduating in the spring of 2012, Frances spent a season working at Yellowstone National Park before beginning her time at Good Works that fall.
Citing Honors Capstone as the class where it all clicked, Frances reflects, "In Capstone with Dr. Dill, we read The Wisdom of Stability by Jonathan Wilson-Hartgrove, which talked about communities of faithful presence, and I remember thinking that it was so beautiful, and that I wanted to be a part of a community that was faithfully present." Of her time at Good Works, one such community, she shares, "It has been redemptive; something really wonderful happens when the body of Christ reaches out to people who are suffering and shows them the love of Jesus…We don't think of it as work, but as an act of worship." Frances has been named Templeton Alumna of the Year for her "well-integrated and upright life in work, family, church, neighborhood, culture, and society." Redemptive work as worship: Frances' life epitomizes what we strive for at Templeton and we are so pleased to honor her through a gift to Good Works and by sharing her story with you.
–Abbie Storch