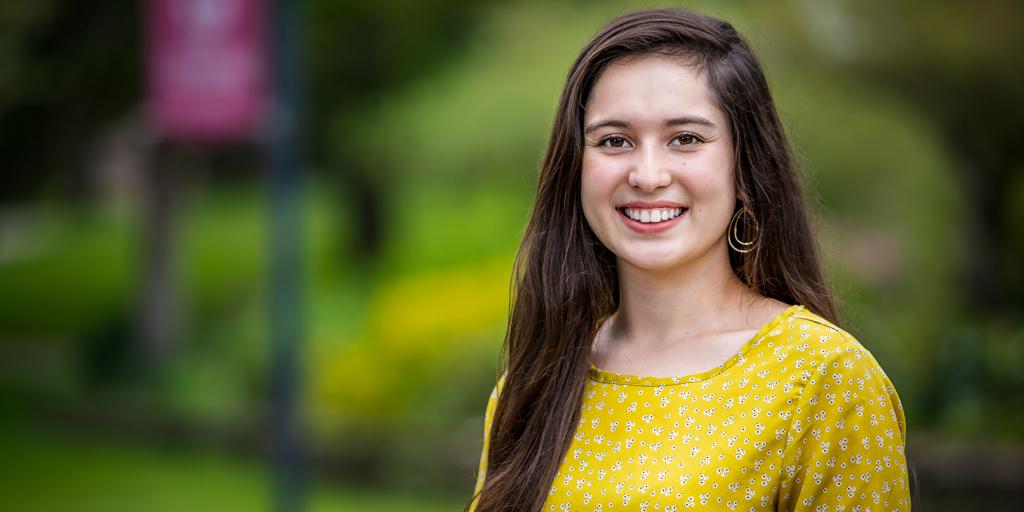 Sarai Gonzalez ('21)
Majors: Mathematics and Spanish, with a minor in Astronomy
What have you enjoyed about being a student at Templeton Honors College?
The honors college's main concern is not simply that you grow as an academic but that you grow as a person. As a student of Templeton, I am surrounded by professors and peers that emulate Christ and care for each other in a holistic way. This makes the honors college feel personal and purposeful. In being cared for by others, I see an example of what it is to be charitable to my neighbor to which is not only known intellectually but acted on humbly and honestly.
What has been excellent about Templeton?
Whether I talk to a new, current, or past member of the honors college, I always leave that conservation either encouraged to continue asking questions or challenged to rethink the way I see and live life as a Christian. In and outside of the classroom, the honors college is filled with meaningful conversations that push me to live a good life that glorifies Christ. This is what makes Templeton excellent, that you are surrounded by people that enjoy asking hard questions and that act upon them.
How do you think Templeton is helping to prepare you for your chosen career path?
As I look to become an educator, I have realized that there is no particular way to instruct others. Through every course I take, Templeton challenges my traditional viewpoint of what the role of a teacher is. Each teacher is so distinct and has great methods of teaching. Although there are many differences, Templeton has shown me the importance of being a listener. In being attentive to my future students' questions, concerns, and curiosities, I will be most effective in how I instruct and encourage students to seek for answers and to continue to wonder at the world and the knowledge and mysteries that fill it.
How is Templeton helping to shape you personally or spiritually?
In taking a Templeton course, I am not only fulfilling a graduation requirement but more importantly reflecting on what it means to live a life that is pleasing to Christ and a life as first created by God before sin entered the world. The conversations we have are not hard because others cannot be part of the conversation, but because the conversations focus on real life problems and make you acknowledge the condition of man's heart. It is in having these conversations that you recognize your faults, vices, and sin. But this is done with the purpose to grow towards having correctness, virtue, and holiness. Overall, it is through studying God's word and many great books that I have been humbled day by day and have seen how much more I am in need of God's good grace.
What did you enjoy about the Summer Scholars Program?
Before experiencing the classical education of the honors college, I could not see a relationship between education and God. It is through attending the Summer Scholars Program that I saw that faith and knowledge go hand in hand. Furthermore, God and education can be in the same conversation. The Summers Scholars Program gave me a new perspective to education and this pushed me to love learning even more.