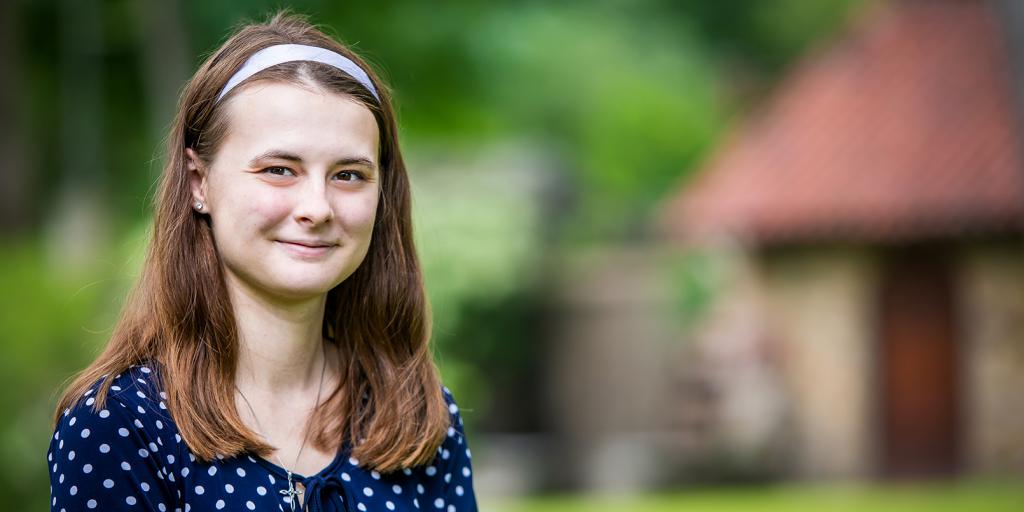 Megan Mahoney ('22)
Major: English Literature and Creative Writing
What have you enjoyed about being a student at Templeton Honors College?
I've loved the community that the Templeton Honors College provides. Having a cohort of people who love good conversation has helped me form friendships that I'm so grateful for. The professors are also wonderful; they are willing and ready to engage with their students, and the care for and willingness to help students who are struggling is exceptional. Especially for me, that community has been so important, because I'm from Arizona and I don't have any family in the area. My professors and my friends in both my cohort and other cohorts have constantly been there for me when I needed them, and I think adjusting to college life would have been a struggle for me if I hadn't had such strong support.
What has been excellent about Templeton?
Templeton is excellent in so many ways, but if I had to name just a few, I think I'd start with the culture. The Templeton Honors College really strives to create a community of fellowship, conversation, and focus on what's truly good and beautiful. It's not just an Honors program— it really is a community. 
The classes that the program requires are also excellent. I love how we can start a discussion in one class, and everyone will get so passionate that the conversation won't end when the class does. It spills out into dining commons, other classes, the tables in Jammin' Java, peoples' dorm rooms, and dozens of other places. It really feels like so many people in the program aren't just doing it to be in an Honors program, but they're doing it because they love it. I think that love of learning what is good, true, and beautiful shapes everything that the Templeton Honors College does, and it has really transformed my college experience.
How do you think Templeton is helping to prepare you for your chosen career path?
Templeton has given me so many opportunities that I never could have had otherwise. Career-wise, I have two different paths that I intend to pursue in tandem: teaching in the classical education world, and writing books for Young Adult audiences. As far as teaching in the classical education sphere, Templeton has really helped me more than I ever could have imagined. With Honors Forum every week, students get a chance to learn from and meet people from a variety of backgrounds who lecture or discuss so many different topics, and so I've been able to learn from all those people as well as meet them and form connections. However, the biggest way Templeton has helped prepare me to teach in classical education has been their Masters in Classical Education. They offer this track primarily for current teachers who intend to pursue a Masters, but Templeton also allows undergraduate students in the Honors College to take classes with the Masters students. In my case, I intend to take all of the Masters classes and hold the credits in escrow until I graduate, which would allow me to graduate in four years with a Masters in Classical Education as well as my Bachelors degree. This track is something I'm so grateful to be able to participate in, and I can already see how it opens so many doors for me later down the road.
As far as my writing, Templeton has provided me with a way to look at literature that really sits down and says, "How can this text shape the way I want to live?" It really makes you think about books in a new way, and even though none of the books we read fall into the modern Young Adult category, I would love to write books that do make people think, no matter the age. It has also reinforced the idea that literature and reading is truly done best in community. I can read a book like Till We Have Faces over and over again, and each time I'll find something new, but reading it with others is so much more powerful because other people can challenge you in ways you never expected and see things that you yourself would never have noticed. 
How is Templeton helping to shape you personally or spiritually?
Templeton has really made me think about the spiritual tradition I'm a part of. One of the things I've really loved is the interaction between the different groups within Christianity, and how Templeton isn't afraid to prompt questioning and critical thinking with the intent for you to come out stronger in your faith on the other side. I've learned so much about different denominations, and it's made my faith stronger. 
Templeton Honors College is all about shaping people. If I had to make a bit of a radical statement, I think that if you come out of the program as the exact same person you came in, something went wrong. The Templeton Honors Program is designed to be a journey, a little odyssey for every person, and every text acts as a god that either challenges you or guides you. I'm still in the process of learning, and I'm open to that. Templeton has really driven home for me the importance of living a life that is truly good, good for your own soul and body and good for the souls and bodies of others as well. 
What did you enjoy about the Summer Scholars Program?
I think the Summer Scholars Program was when I really fell in love with the Templeton Honors College. The first summer I went, I was nervous; I was traveling all the way across the country, and I didn't know what I'd find when I got there. But it was wonderful. I made some wonderful friends, I talked about books that I absolutely love, and I got to have conversations with professors that challenged me. So I went back and did a second summer the next year, and I think that, by that point, it would have been hard to convince me to go to college anywhere else. Those opportunities allowed me to experience first-hand what going to Templeton would be like, and that experience was invaluable when I was making decisions about where to attend college.